Project GLAD® is a model of professional development dedicated to building academic language and literacy for all students, especially second language learners.
About Project GLAD®
For over 20 years, Project GLAD® has provided exemplary training for educators both nationally and internationally resulting in students' access to quality instruction and high-levels of success.  The Guided language Acquisition Design model enhances teachers' design and delivery of standards-based instruction through an approach that integrates the development of content knowledge and skills with the acquisition of academic language. Project GLAD® classrooms promote an environment that respects and honors each child's voice, personal life experience, beliefs and culture.
DLeNM works in partnership with the National Training Center to take licensed teachers who have already completed the Tier I certification training through the Tier II and Tier III processes to become OCDE Project GLAD® Agency Trainers. To complete both tiers typically takes from 1 to 2 years and is done in a team of two to four educators.
For more information, or to schedule an OCDE Project GLAD® training for your school or district, please contact Diana Pinkston-Stewart at diana@dlenm.org.
GLAD Summer Institute
Affirming Identity Through Language and Culture
June 7-8, 2022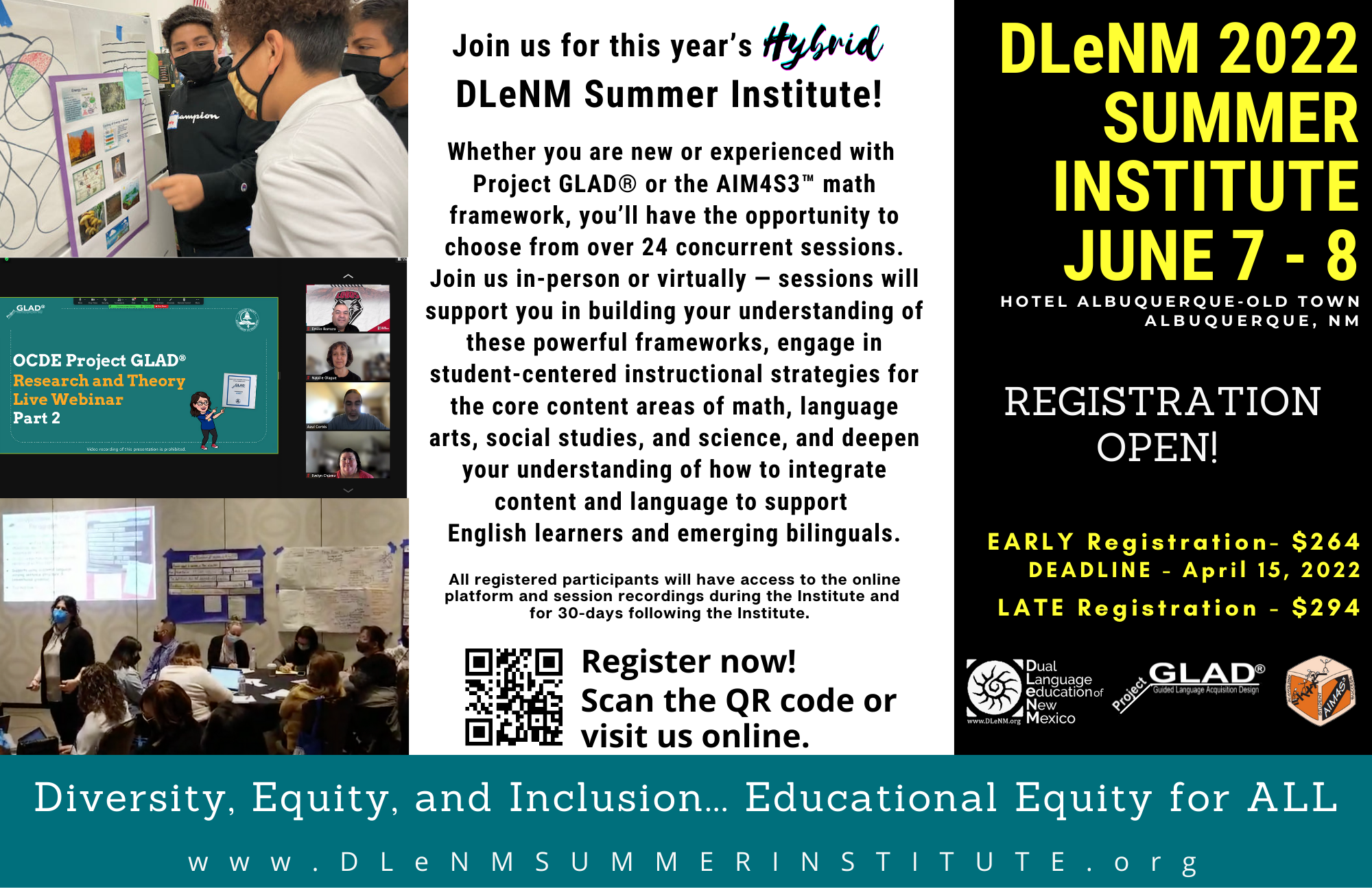 DLeNM Project GLAD® Training Opportunities—
Now available virtually!!
Project GLAD® Virtual Foundations Certification Training for schools and districts (on Zoom):
(*Parts 1 & 2 are required for certification! Total cost for all six days: $1090)
Part 1: Virtual Research & Theory Workshop: Participants learn the theoretical and research base of the model and learn about GLAD strategies that provide access to academic content and language development for all students.
Cost = $490  (includes the cost of shipping the GLAD Learning Guide to you.)
Part 2: 4-Day Virtual Classroom Demonstration: Participants observe the delivery of 4 days of GLAD® classroom instruction with students and spend the afternoon sessions debriefing, collaborating, planning, and preparing for immediate implementation in their classrooms/schools.
Cost = $600
       Spring-Summer 2022
       Part 1:  Virtual RTW – March 31-April 1, 2022 or June 1-2, 2022
       Part 2:  Virtual Elementary Classroom Demonstration (2 options)
            Elementary level:  June 13–16, 2022
            Secondary level:  June 20-23, 2022
Project GLAD® Leadership Training for schools and districts (Virtual or In-person)
The purpose of this workshop is to support educational agencies in understanding the GLAD® model, its implementation and sustainability.  Great for instructional councils and leadership teams!
Project GLAD® Customized Trainings (Virtual or In-person)
DLeNM Project GLAD® trainers work with your district or school to determine PD focus areas to meet the needs of your teachers. Sessions are open to teachers who have already been trained as well as those who are new to the GLAD® model.  Please contact us at the email listed below for pricing information and to schedule a training for your school or district.
For more information or to set up a meeting to discuss the possibilities for your school or district, contact us at gladinfo@dlenm.org  or visit dlenm.org.
Preschool GLAD® Overview
Preschool GLAD® is about creating a rich environment of language, ideas and concepts. Preschool, Transitional Kindergarten, and Kindergarten students engage in learning at their own entry points and are given multiple ways to respond. This model fosters a success-based, interactive environment that stresses cross-cultural respect and sensitivity and that values the family, community, and language of the child. Intentionally creating language-rich environments for our early childhood emergent bilingual students takes time and effort. Preschool GLAD® engages participants in thinking about how children learn language and introduces successful research-based strategies for creating a language-rich setting that is alive with words, aloud with language, and results in language-rich learning.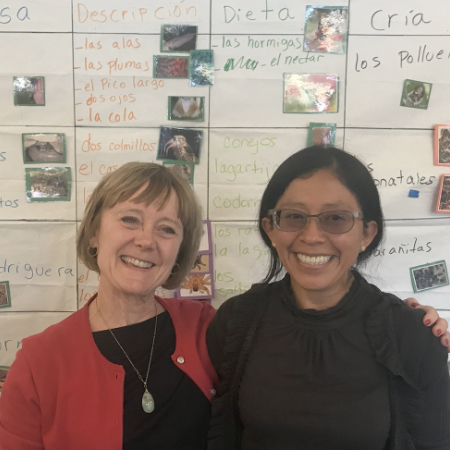 Preschool GLAD® Offerings
Customized Early Childhood GLAD Offerings (virtual)
Our trainer team will customize virtual sessions based on the needs of your teachers. This includes targeting specific strategies that will support your students in virtual or in-person instruction. Contact Lisa Meyer at lisa@dlenm.org to find out more information.
Topic Ideas: Using Chants to Build Oral Language
Building Vocabulary through Preschool GLAD
Tips for delivering virtual instruction to early learners
Cost: 90-minute virtual session for 3-15 participants = $950
90-minute virtual session for 16-50 participants = $1,650.00
Contact Lisa Meyer at lisa@dlenm.org to find out more information.
Five-day Preschool GLAD® Training (in-person, currently on hold until districts are able to support in-person training—currently scheduling for fall 2021)
This training includes one day of theory, research, and strategies to prepare teachers for the four-day classroom demonstration. Teachers see the strategies in action with students, plan their own upcoming unit, and deepen their understanding of language development and the needs of language learners. The classroom demonstration can be offered in English or Spanish.
Early childhood teachers have loved this training! They repeatedly tell us that the strategies are practical and engaging for students, and they see strong gains in vocabulary and language development. Preschool GLAD® is not a curriculum. It works with current pacing and unit guides already in place in the district or can support teachers in developing their own.
Cost: $850 per participant
Contact Lisa Meyer at lisa@dlenm.org to find out more information.