Dual Language Education of New Mexico continues to support the development of an instructional framework to deepen students' mathematical learning.
Achievement Inspired Mathematics for Scaffolding Student Success (AIM4S³™) is designed to provide a framework of instructional components that shelter mathematics content to make it comprehensible and accessible to all students, with a specific focus on English language learners (ELLs) and academic language learners (ALLs). AIM4S³™ supports CCSSM implementation and can be used with any mathematics program or curriculum for students in kindergarten through middle school. This model provides the strategies to allow students to own the language, to be able to access the knowledge, and to be fluent in demonstrating their understanding. It also deepens teachers' mathematical understanding and curricular knowledge.
Level 1 Training: 6-Day Training
The Level I training is a 6-day training delivered in three 2-day sessions. In each session teachers participate in classroom demonstrations plus planning and practice opportunities. The training targets a specific grade-level band of teachers (e.g., elementary, middle school, fourth-eighth, etc.) It includes theory and research, strategies, classroom demonstrations, on-line publications and videos, and facilitated planning for teachers.
During the level 1 training, participants will:
Receive training on the AIM4S3™ Components and Key Instructional Principles to strengthen teacher pedagogy around math instruction and strategies that support diverse learners.
Preview, observe and debrief classroom demonstrations where teachers see the AIM4S3™ framework in action with students.
Develop materials and practice strategies to support students' mathematics achievement and support implementation of the CCSSM.
Share artifacts from their classroom instruction as they go back and implement the Key Instructional Principles and Component Areas with their students.
Use formative assessment data to guide instruction and to increase student achievement.
To find out more information about organizing an AIM4S³™ Level I training for your school or district, contact aim4s3@dlenm.org.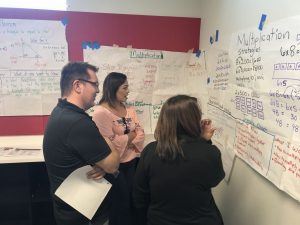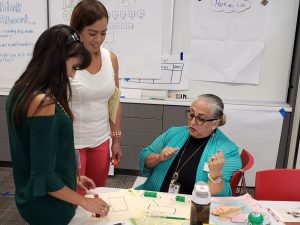 Level 1 Follow-up offerings
School/District Site Follow-Up:
Site based follow-up trainings are differentiated professional development designed to meet the needs of the individual teacher, school, and district implementing AIM4S³™. This offering can include sessions to deepen and strengthen mathematical understandings, classroom demonstrations, teacher observations with supportive feedback, and work sessions to plan CCSSM units or develop Compendia. DLeNM's observational protocol, VISITAS, is often utilized to support teams in participating in peer observations and identifying instructional next steps to support deeper student learning.
Level 2 and 3 Capacity Building: Developing School/ District Trainers
DLeNM supports schools and districts in building capacity and sustainability of the AIM4S³™ Framework. This exciting and intense process typically takes from 12 to 18 months as we support and certify trainers at the school and district levels. To find out more information about the trainer certification process, contact Lisa Meyer at lisa@dlenm.org.
AIM4S³™ Virtual Summer Institute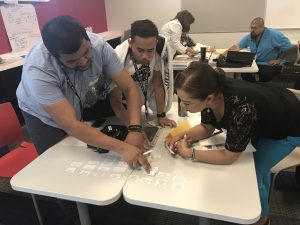 2023 date TBD
To learn more about these exciting institutes, click here.